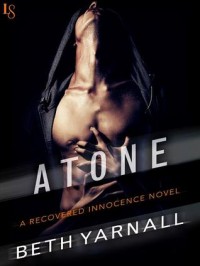 This is the second book in Beth Yarnall's Recovered Innocence series. The first book was Cora's story and her struggles to get her brother, Beau freed from jail for a crime he did not commit. This second book is now Beau's story.

Beau is trying to start to live his life again. He is at a crossroad and isn't sure what he should do. He still is mourning the loss of Cassandra, his girlfriend that he was convicted of killing. Cora is able to get Beau a job at Nash Security and Investigation. Beau is not sure if he is going to like it but it's a start. On his first day a new client comes in that Beau is suddenly drawn to. Her name is Vera Swain. Beau isn't sure what draws him to her but he feels like they have a connection. Vera is looking for her sister, Marie. They both were put into foster care but they became separated. Vera is fearful something is going to happen to Marie because she knows that she is with this guy, Javier, that is bad news.

Beau is really intrigued by Vera and wants to start helping on her case. He starts to find out many things about her that Vera didn't tell them. Beau convinces Vera that is he understands her and that they are very much alike. As the two of them work closely together trying to find Marie, their feelings for each other start to emerge.

These two lost souls found comfort in each other...a kindred spirit. The journeys that each of these two had were very difficult, yet being together helped each of them out.

The final arc of the story with Beau, Vera, Marie and Javier was explosive. I cannot even fathom to begin what they went through. The final happy ending was perfect for these two.

Overall, this was an interesting story with very complex characters and really kept my attention.